How Baptism Opened My Eyes to a Special Need
Have you heard about the Adult Special Needs Ministry at College Park?
Our History
It started in 1990 when God called a widow named Virginia Schaefer to begin a weekly Bible study for women involved with New Hope, a local organization that serves the needs of the disabled and impoverished. When some of the male residents began to show interest in a Bible Study, she approached Pastor Kimber Kauffman who immediately began meeting with the men every week, too. At that point, with the help of Steve Boles of Mark 2 Ministries, College Park acquired a van that allowed them to pick up some of the Bible study members for Sunday services and the Special Needs ministry was born.
Today, the Adult Special Needs Ministry is led by Jeff Alexovich. With the help of his wife, Joanne, and a team of faithful volunteers, they serve approximately 25 men and women in the SonRise Bible study that meets on Monday nights in the East Room. In addition, a team of volunteer drivers makes it possible for 5 people in wheelchairs and 2-3 other students to join us on Sunday mornings for Phill Frye's Sunday school class and the North Indy worship service each week.
With Luke 14:12-14 as their theme verses, the Adult Special Needs Ministry strives to help each individual develop and grow in their relationship with Christ. Jeff and his team work to develop personal friendships with the students. Through patient, repetitive teaching and sacrificial, yet fulfilling, personal investment, they have taken this valuable ministry to a new level.
Meet Nicki Brunkow

It's almost impossible to attend College Park and not notice Nicki Brunkow, one of the women served by our Adult Special Needs Ministry. Her passion for Jesus often draws her out of her seat as she loves to help lead worship from the front. Though many would be tempted to "restore order" and have her return to her seat, gratefully, Nicki is accepted for who she is.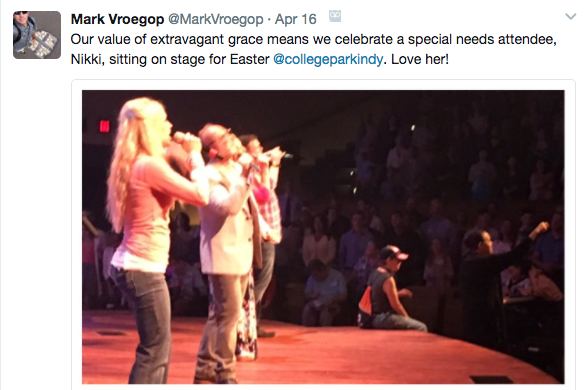 Nicki has a myriad of health issues as a result of a stroke she suffered at the age of 16. Several years ago, she lived in a group home with Cindy Twigg, who has attended College Park for the past 15 years. Because of the faithfulness of our volunteer drivers who brought Cindy to and from church each week, Nicki and her parents were drawn to College Park. Roger and Dee have been very active in the Monday night SonRise program and are new members of the Castleton campus. In fact, Roger was part of the first group of people to be baptized at the Castleton incubator – on the same Sunday his daughter, Nicki, was baptized at North Indy!
I've had the privilege of walking many people through baptism, but have never seen anyone more excited to be baptized than Nicki. Before now, I don't believe anyone had ever offered her the opportunity to be baptized. I know that giving her testimony was a grueling process as she struggled to articulate what was in her heart and that getting in and out of the tank was also outside her comfort zone, but she never once complained or lost her joy in the process. Nicki is grounded in her faith and her understanding of the gospel and love for Jesus are evident. What an honor it was to receive her soggy post-baptism hug backstage as tears of joy streamed down her face!
Meet Joni Eaton
Joni Eaton, another woman served by our Adult Special Needs Ministry, is wheelchair-bound and can only verbalize distinct "yes" or "no" answers to questions. However, with Jeff's help, no clearer baptism testimony could have been given. Joni doesn't have the support system that Nicki does, as both of her parents are deceased, and she has no one to advocate for her. Loneliness is often her nearest companion, but that doesn't put a damper on her exuberance.
For years, Joni attended activities and special events with the SonRise group but didn't want anything to do with church. It wasn't until she saw the love of Jesus while attending a special needs prom at another local church a few years ago that her heart was softened to the gospel. Now, Joni loves to attend Sunday morning services. She listens and regularly participates in class and after she learned about baptism, she wanted to be obedient.
A Rare Jewel
It's easy to overlook this ministry—the people they serve require patience, caregiving, and a sacrifice of time, and they are not able to give back in a way you may be accustomed to receiving. As the Compassion Ministries Assistant, I oversee this group's administrative needs which has brought awareness to the importance of this ministry. But, walking Nicki and Joni through the process of baptism has brought awareness of a far great need: they need to feel included. I also experienced the rare jewel these men and women do have to give—all-inclusive acceptance.